Parmir's Valve
Parmir Water Systems has carefully chosen a global brand leaders in the manufacturing of the valves we use for our faucets. These valves go through extensive quality tests for longevity, functionality and ease of use before installed into Parmir's faucet bodies. They are certified and compliant with state regulations for water conservation. Currently there are four different valves types available today. Parmir has chosen the most reliable Ceramic Disc Valves for our faucets and keep a supply readily available for emergencies. Superior valves make a perfect match for our genuine solid stainless steel faucets. Currently, four different types of valves are available for faucets today. Parmir uses only top quality Ceramic Disc Valves from proven manufacturers and are proven to be the most reliable valve available today.
Parmir Valves
Ceramic Disc Valves- The most recently developed faucet type also is the most leak-resistant. Water is controlled on a disc faucet by the movement of a ceramic disc. There are no moveable parts other than the discs, they don't develop mineral deposits and there are no parts to wear out, making disc-faucets virtually maintenance-free.
Other Valves Available
Cartridge Valves- Inventor Al Moen scalded his hand one day while using a standard compression faucet, and the result, after ten years of development, was the single-handled mixing faucet. The cartridge has a series of holes, and the user regulates the water temperature and flow by turning the handle, which adjusts the cartridge alignment with the water inlets. Cartridge faucets fail when the rubber O-rings around the cartridge becomes worn or dirty.
Ball Valve- These faucets use a classic type moving ball assembly to adjust water temperature and flow rate. Ball-valve faucets fail when the rubber washers around the inlets become worn, or when the ball cracks or chips preventing the valve from making a seal.
Compression Valves- The standard screw type, double handled faucets found in laundry rooms and outside of almost every home are compression faucets. These work by compressing a seal against the water inlet when you turn the handle to shut off the water. Compression faucets fail when the washer wears out, the valve seat cracks or mineral deposits from the water collect on the valve seat and prevent the washer from making a seal.

---
Parmir's Aerator's
Every one of us is affected by environmental and climate changes and everybody can help to protect our planet. Parmir Water Systems is proud to use Neoperl® aerators in our faucets. Together we strive to create a new mindset and motivation to improve energy efficiency in our faucets and with our customers. The unique flow regulator technology keeps the flow rate constant across the pressure range. Consequently, the use of a quality flow regulator not only saves a lot of money, but also guarantees an even water distribution. Aerators are found in nearly all kitchen and lavatory faucets. An aerator is a key component in the overall performance of a faucet:
Controls the stream straightness and diameter
Reduces splash by aerating the stream and eliminating side spray
Saves water and reduce energy costs
Meets local plumbing codes and standards
While some faucet aerators serve only to control the flow rate, Neoperl's faucet aerators do that and much more: they also control the stream straightness and diameter, reduce splash by aerating the stream (in some models) and eliminating side spray, save water and reduce energy costs, and meet local plumbing codes and standards worldwide.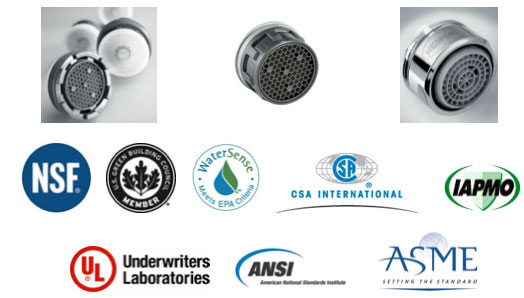 Certification